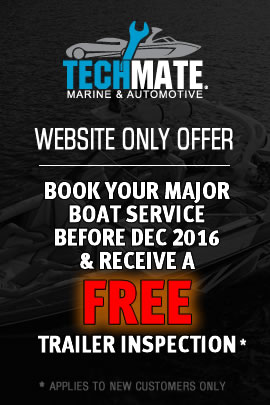 Service Overview
Installation of Universal or OEM wake board towers.
Advice on fitment positioning to get the most from your tower.
Audio Stereo System integration and fitting of other devices.
TechMate are approved Universal and OEM wakeboard tower fitment specialists. We can install a Universal or OEM tower that you have pre-purchased or we can source and purchase the correct item for your boat for you. "Universal" towers have been carefully designed to fit on a wide range of boat models, makes and years. Traditionally, OEM, factory and custom made wake towers are designed with a "fixed-width" construction and are designed specifically for one boat model which is why the universal type will normally work out cheaper to purchase. Once installed properly (installation usually takes a 3-5 hours), wakeboard towers are extremely sturdy, strong and quiet. They are also a perfect spot for your stereo audio system which we can also install or modify for you!
Once you have chosen the correct wakeboard tower for your vessel, we can fit it to any outboard or inboard engine boat. It is a good idea to take a look at your boat to see where some good options for placing mounting feet are but if you are not sure, we can give you expert advice on the best options for you.
Safety facts for Wake Towers
Keep in mind that towing tubes or towables from a wakeboard tower's tow point is NOT recommended on any wakeboard tower by any manufacturer regardless of what they advertise- it's just not safe. The point of a wakeboard tower is that it has a high tow point that helps pull the wakeboarder up in the air and, at the same time, doesn't pull them back down like a low point tow-eye. Wakeboarders benefit from an elevated pivot point- not tubers. When a towable is being pulled from a high tow point, it is actually pulling up on the front of the inflatable which allows wind to get underneath and at even relatively low speeds, it can quickly lift up and flip it- very dangerous when friends and family are launching off and smacking onto the water. There are so many variables that come into play: the number of people being towed, speed, driving style, whether or not the driver is "whipping" the towable around, how choppy the water is, on coming wakes, the style of the towable, and even wind speed- all these can contribute to uneven or a sudden jolt of back force. The wide range of motion created by swinging multiple people around on a tube connected to a high tow point creates excessive strain that towers and the fiberglass hull of your boat were not originally designed to handle. Often times, it is not the tower that is damaged, it's actually the boat's fiberglass hull that becomes the weak point and breaks first. Also, on rare occasions, a towed tube or towable can land in choppy water or in front of an oncoming wake and partially submerge under water (also known as "submarining") and at even relatively low speeds, it could act as an anchor creating excessive and abrupt force pulling back on the tower and boat. Regardless of the tower's strength or claims by some tower manufacturers that it is safe, it is definitely not recommended. For everyone's protection (and your boat), please use the low elevation stock tow point or tow-eye on your boat for towing tubes. The "annoying" spray riders get from the tow rope spitting up a little spray of water might be solved with a wake tower, but the potential dangers are not worth the risk. Reserve the tower's tow point for wakeboarding, kneeboarding, wake surfing and skiing only.
Some wakeboard towers are collapsible. Each model folds a little differently but overall it's a very quick and simple process. Folding is a very popular feature to have for storage where minimal vertical clearance is available.
Price Guide
Wake Tower Installation PricePrices Vary >> Call us
Different wake towers and boats make this impossible to state a price. Call us for a quote on your gear.
Related Service