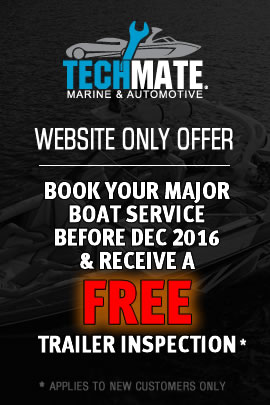 Service Overview
Marine Stereo Audio System Installation.
Boat Audio System modifications or upgrade.
Boat Stereo System repairs and replacement.
TechMate boat audio services can install, modify or upgrade your in-boat entertainment system. We have years of experience in mounting systems and know all the pitfalls of D.I.Y. installation (that we have had to fix up for customers). For example, did you know that most head units should not be mounted at an angle greater than 20 degrees? While you could potentially mount the stereo completely on its side and it would play a CD, you may lose the shock protection built into the unit. As soon as you hit that first wave the CD could slip out of position and damage the internal workings.
Speaker Mounting Considerations
Flush Mount Speakers Can be installed in tight spaces and out of the way of most activity. However, you also have to cut a hole in your boat to get them in place. Flush mount speakers must have adequate air space around the cone when they are mounted in order to get the best frequency response. Also, you don't want any other open air path behind the speaker. Both of these conditions could result in a serious loss of bass response.
Box Speakers don't require you to cut a hole in your boat and the box enclosure is already set for optimum performance of the speaker so you don't have to worry about the air space around it. The only real disadvantage is that they can take up space on your boat that flush mount speakers don't.
When installing speakers on deck, it is important to consider that speakers are very directional, which means they send sound in the direction they are pointed. You may be amazed at the drop off in sound when a speaker is pointed slightly away. In a home or car system, direction is less important because there are so many surfaces for the sound to bounce off. On an open deck sound can get swallowed up in the open air and ruin the sound altogether.
When selecting speaker location keep in mind that stereo sound is much better than mono sound and you will want to be able to hear from two speakers at once. You will get the best sound if you position your speakers so both of a stereo pair are pointed at your ears at the same time. If you can only hear from one speaker you will only be getting half the experience.
Power Considerations
It is important that your speakers can handle the power load that your stereo can produce, otherwise you run the risk of blowing your speakers. Be aware that using higher power rated speakers does not necessarily improve your volume. It is the amplifier that provides the power.
For most installations we recommend using only one speaker per amplified channel especially if you are using the amplifier built into your stereo head unit. For most head units, that means 4 speakers.
Call us today for advice on your Gold Coast boat stereo installation.
Price Guide
Boat Stereo Audio Installation & Upgrade PricePrices Vary >> Call us
Different audio systems, upgtrades & boats alters price. Call us for a quote on your gear.
Related Service