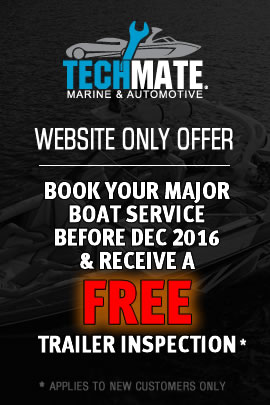 Overview of Service
A comprehensive pre-purchase inspection for boats.
We visit the seller for you (or with you) for a full inspection.
We can supply both written and verbal reports.
TechMate provides mobile pre-purchase boat inspection services on the Gold Coast. We will deliver a fully comprehensive pre-purchase boat inspection, much like any service centre will offer with the convenience of us coming to your location with a fully equipped mobile service unit and at a much better price!
Call us as soon as you know you require an inspection so we can get to your location as soon as possible.
A comprehensive boat inspection will reveal any potentially serious or costly faults in a used craft. These are things that a basic Safety Certificate inspection won't identify. To the untrained eye, a shiny boat can look so tempting and exciting, but buyer's remorse after purchasing a lemon soon kills that feeling. Imagine then having to pay to repair the boat yourself before you can even get rid of it again!
Even though not everyone understands all of the items listed on the pre-purchase boat inspection report, you can rest assured that our inspection covers all aspects of marine safety and potential component failure in the assessment of the boat.
If we find any faults in the pre-purchase boat inspection you can use the findings to negotiate with the seller for a reduced price if you wish to go ahead with the boat purchase. If no faults are found and the boat is in top condition, then you can feel confident that parting with the sale money will be worth it.
Our knowledge of all brands of boats allows us to also let you know when the next service will be needed on the engine and what it will cost, so you can prepare for this expense in the future (this may also influence the sale for you!)
Price Guide
Pre-purchase boat inspection "Peace of mind" price

from $250
Related Service