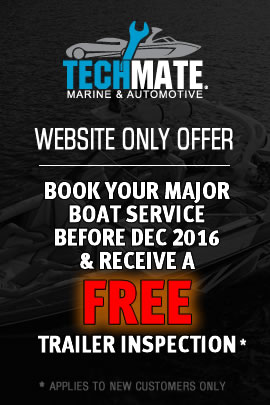 Service Overview
Check and diagnose any potential problems with your boat trailer.
Fully service trailer for best performance and safety
Repair, replace or modify any defects or faulty or damaged parts.
When it comes to boating, most people tend to neglect one of the most important assets associated with their boat. That is their boat trailer! Ask yourself this. If your boat trailer is in poor working condition & you want to take your boat out fishing with family and friends, do you want to spend more time at the ramp trying to launch your boat, or out on the water? I think we all know the answer to this question.
By properly maintaining your boats rollers, bunks, skids, brackets, accessories and hardware, you can rest assured for a quick and easy launch and retrieval which will cause less stress for you at the ramp and allow you to focus more on boating.
TechMate's service schedule for Boat Trailer Maintenance:
Check and re-grease your boat trailer's wheel bearings to help maintain the life of the bearings and reduce the chance of bearing failure which in extreme cases can lead to the wheel coming off your trailer.
Re-tension the trailers wheel nuts to the correct torque specifications. Loose wheel nuts are extremely dangerous! A wheel coming off can lead to serious damage to your boat, car, yourself and other people out on
the road, but we're sure you are aware of that!
Inspect your trailer for cracks or severely rusted areas that may have become potentially brittle. This includes your suspension springs and axles. Each time you take your boat in and out of the water, you are
introducing your trailer to corrosive sea water.
Check your boat trailer rollers, brackets and split pins for cracking or breaks. It is important that your rollers are spinning freely and are clean of any grease or product that may be stuck between the spindles and
the rollers. Clean hardware will allow for a quick and easy launch and retrieval.
Check your trailer winch is in full working condition. Check the condition of your winch strap and lubricate the gears if necessary. You dont want to have your boat half way on your trailer and the winch strap breaks. Not only will this cause major damage to your boat and trailer, It can cause serious damage to anyone assisting in retrieving your boat.
Inspect your boat trailer lights or lighting board. Make sure the wiring is in full working condition.
Check your boat trailers brakes and pads (if fitted).
Check your boat trailer's tyre pressure and tread wear.
Call us today for your Gold Coast boat trailer service and repairs.
Price Guide
Boat Trailer inspection price

$100
Related Services