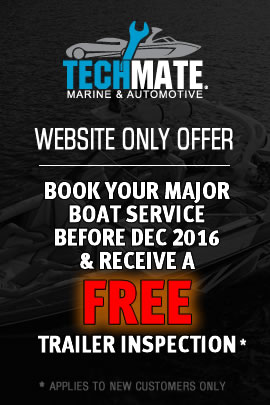 Overview of Service
A comprehensive condition inspection for boats over 10 years old.
Outboard, sterndrive & jet powered runabouts & trailer sailers older than 20 years require a condition report.
Custom-built boats and vessels of wooden or steel construction also require an inspection report, regardless of age.
TechMate provides mobile Club Marine boat inspection report services on the Gold Coast. We will deliver a fully comprehensive condition report, much like any service centre will offer with the convenience of us coming to your location with a fully equipped mobile service unit and at a much better price!
Call us as soon as you know you require an inspection so we can get to your location as soon as possible.
A comprehensive Club Marine boat condition report will assess any issues which may deem your boat unfit for the water and void your insurance. The report will cover the four essential categories that Club Marine requires: Hull, Motor, Trailer and mast, spars, rigging & sails (if applicable)
Even though not everyone understands all of the items listed on the pre-purchase boat inspection report, you can rest assured that our inspection covers all aspects of marine safety and potential component failure in the assessment of the boat.
Don't risk any complications with your boat insurance as there is a lot of money at stake!
Price Guide
Club Marine Inspection Report price

$100
Related Service